Happy holidays … with random animal.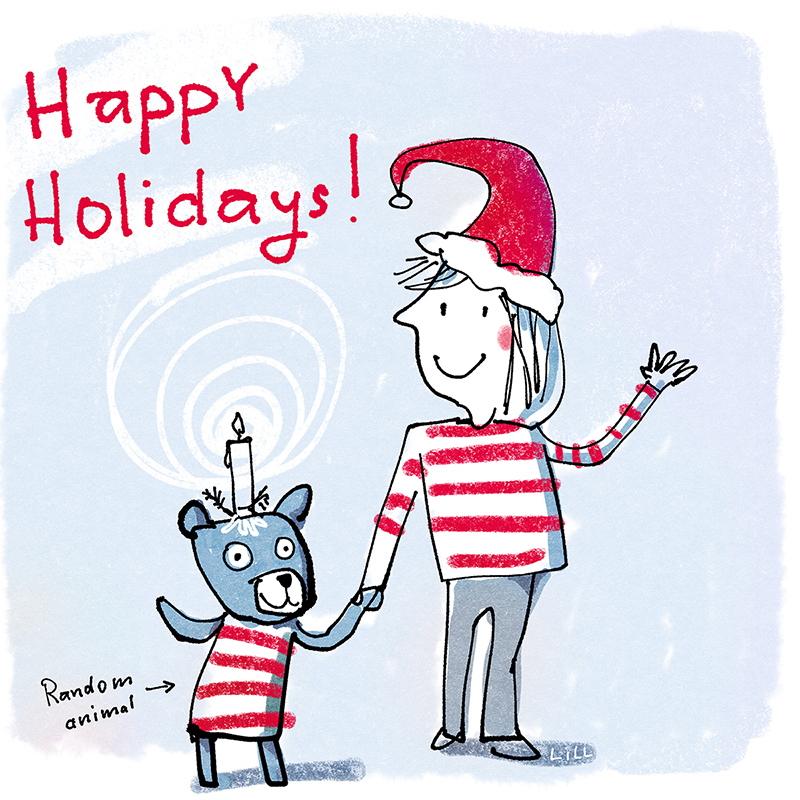 As you know, I am a visual storyteller, and creative by profession.
To create a holiday illustration shouldn't be a problem, right? Everybody is writing holiday greetings!
But. I have been procrastinating for days.
Time is running out, and impostor syndrome is creeping in…
I try to draw Santa Claus in his sleigh. No. Much too complicated. It takes forever, and looks corny.
I try a modern approach: A few words in clean type on white background, some geometrical, vaguely tree-shaped forms. The result looks like a mediocre design school assignment.
I try just doodling. Fun, but not for Christmas!
Why it is so difficult to send a nice little holiday greeting to the nice people who like my drawings??
Aaah. I see. I had it all wrong. I want to connect with my people, not show off my skills. It doesn't matter what I draw.
A wave of relief.
I used to draw our dog Maggie into my illustrations. Sadly, she died last spring.
So I just think of a random animal. Starting with letter... B.
Bear is it.
And this is how it came that it is me and random, but friendly bear now wish you a wonderful Christmas holiday, and the very best and creative New Year.
I am looking forward to connecting more next year.
Thank you so much for reading.
--------
P.S. If you should be in need of a last minute Christmas present, or 2020 is the year when you finally want to learn to draw (e.g. animals...), check out  
Illustration made easy!
On January 7th we draw our plans and goals for 2020. The price will go up in 2020, so now is a good time to hop on!  
Here is the direct link... 
I'd love to draw together with you!