Hard skills and serendipity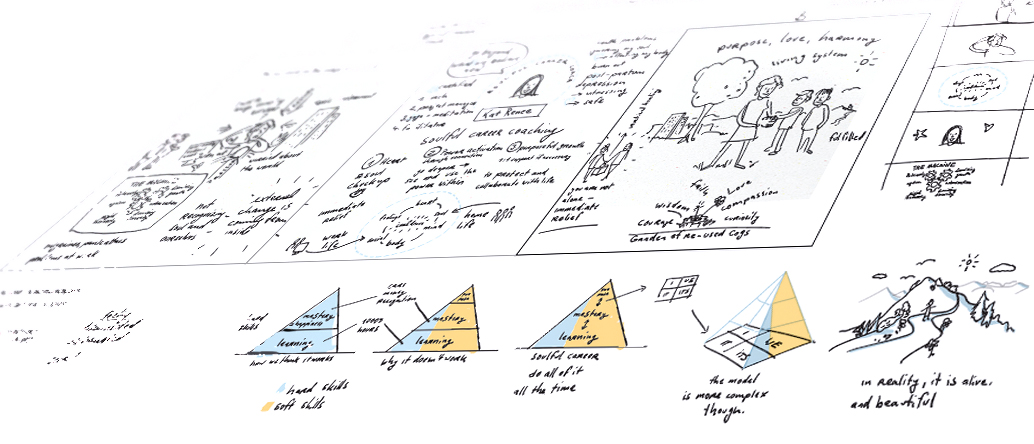 Sneak peek into a storyboarding session.
Sometimes it blows my own mind how effective it is what I'm doing.
Seriously.
Yesterday I had a session with a lovely coach who is "helping burnt-out professionals to discover and live their purpose"
(Sidenote: A one-liner like this often emerges automagically from the picture, without half trying!)
Soulful Career Coach Kat Renee had already developed a mountain- metaphor and diagram for her approach. I simplified it a bit - because you can't fit as much information in a little drawing as you can with PowerPoint. The pencil forces you to think clearly!
We discovered that the sketched pyramid showed exactly why learning hard skills doesn't lead to a fulfilled life.
Enthusiastically, we developed a series of triangle-to-pyramid-to-mountain images together. It was fun, and it made sense.
It is not that I'm a genius at what I'm doing. The setup allows true co-creation, and the messiness allows for serendipity.
The image above is a peek into the working document from the session. Now I'm going to clean it up, organize, and prettify it a bit.
But the value is already delivered. Here is a sentence I jotted down during the session:
"I didn't realize how powerful my work is until you drew what I do".
I need to write that on my website.
Thank you, Kat.
P.S. Next Tuesday I'm going to meet with Kat and other participants for a group coaching session where we talk about how to apply the insights from the Brand Storyboards to our business. I might also draw a pyramid or something.
It is part of the Visual Thinking made Easy course
We meet on Tuesdays 8 PM Copenhagen time, and alternate between group coaching and drawing workshops.
.